2019-07-09
"Chocolate Box" Frame Tray System Win Packaging Innovation Award
 3rd July,  our customer Ford Motor Company won the prestigious Packaging Innovation prize with the 'chocolate box' frame tray system at the ceremony of 2019 Automotive Logistics Global Munich conference!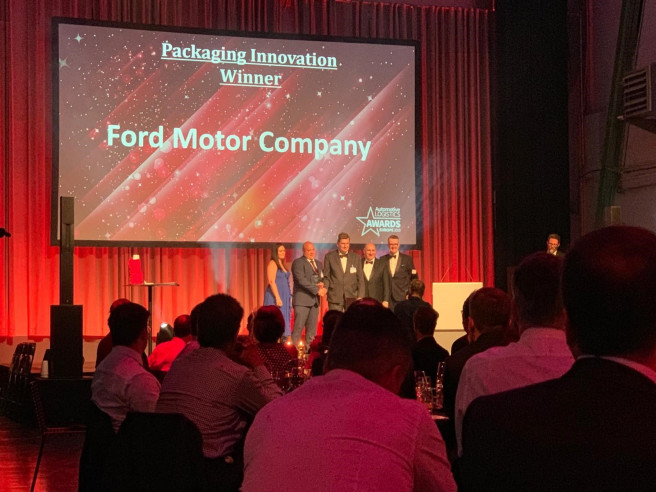 This packaging concept has been developed by Boxon and our partner Molandertech. The system is noteworthy for its potential impacts across the supply chain, including transport, handling, environment and packaging cost.The frame tray system is used in Ford's Dagenham engine plant in the UK. Due to the advantages it is now being increasingly implemented at Ford's factories in Europe.
This injection moulded packaging system is designed specifically for each kind of component. With the customized injection-molded tray solutions, more components can be sent per pallet unit compared to the industry's standard packaging, which greatly saves floor space in the plant, reduces vehicle movements to lineside and improves ergonomics. Ford demonstrated millions of euros in cost saving across 30 engine parts on its Panther Engine programme, with potential for greater savings across larger engine systems. In addition, the trays are fully recyclable. We take care of all trays directly at Ford's facilities and ensure that the plastic is reused directly in the production of new trays, which results in huge environmental benefits. In 2018, Ford recycled 800,000kg of material, equating to 1.16m trays.
The judges were impressed by the volume of part numbers impacted and the large global potential to save cost, CO2, handling and space realisation.
One judge said: "This packaging improves multiple streams for facility, safety, ergonomics [and] environmental, with clear significant benefits."
The judges congratulated Ford engineers and its partners for the reuse of raw material for production, improved parts security, CO2 positive impact and zero repacking.
About AL Awards Europe
The Automotive Logistics Europe Awards, now in their second year, were presented at the Kesselhaus at Motorworld, as part of this year's Automotive Logistics Global Munich conference.
The winners of the 2019 Automotive Logistics Europe Awards were revealed on 3rd July this year in Munich, recognising supply chain and logistics excellence in ten categories in disciplines across the automotive supply chain.
A panel of 20 senior executives, academics and experts from across the European automotive logistics sector judged the entries through an independent and secure scoring system.
About Packaging Innovation Award
The award recognises the most creative and effective solutions to challenges in automotive packaging and container management.
Read more about the Automotive Logistics Awards Europe on https://www.automotivelogistics.media/revealed-al-europe-award-winners-2019/38626.article  http://alawardseurope.com/