2019-08-02
Boxon China Has Been Accessed to Conform to ISO 9001 and ISO 14001
(2nd August 2019) 29th July 2019, Boxon China has been accessed to get the certifications of conforming to ISO 9001:2015 and ISO 14001:2015 by Wozhong Certification.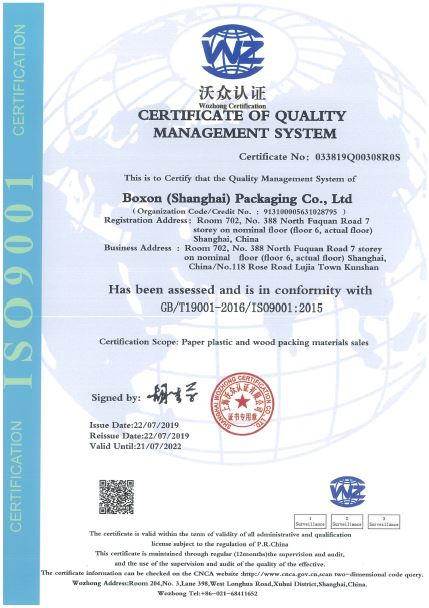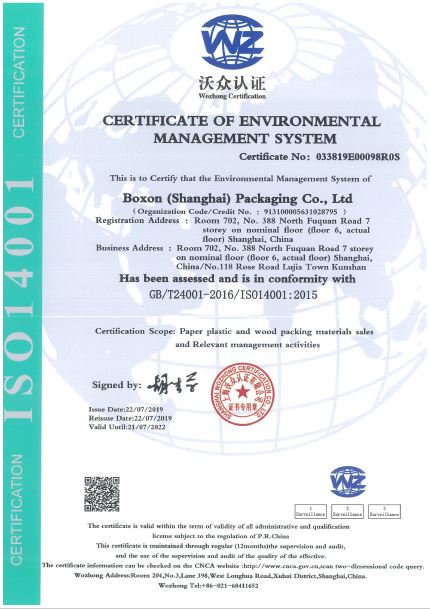 Boxon Quality Control Supervisor Brian Huang says:" All Boxon employees understand ISO 9001 and ISO 14001 more thoroughly through involvement in ISO training and assessment. The International Standard is not just written on a paper but integrated into our daily work and make Boxon China operated in the framework in an orderly manner."
Implementing a quality system based on the International Standard ISO 9001 can bring much potential benefits to Boxon including the ability to consistently provide packaging products and services that meet customer and applicable statutory and regulatory requirements; facilitating opportunities to enhance customer satisfaction; addressing risks and opportunities associated with our context and objectives and so on.
Boxon has been accessed yearly by the third party since 2017 and has been implementing the quality management system ISO 9001 as a strategic decision. It helps to improve the overall performance continuously and provide a sound basis for long-term sustainable development.
"We were also accessed for environmental management standards ISO 14001 this year. Through evaluating environmental factors, we identify potential environmental risks and control them effectively thereafter to support global sustainable development and environmental protection."Brian Huang mentioned.
ISO 14001 can encourage us to save resources and recycle waste; improve environmental management, reduce waste and energy consumption; strengthen attention to pollution prevention – avoid, reduce and control waste and pollution, and reduce negative impacts on the environment; increase efficiency and reduce operation costs; fulfill legal obligations and win the trust of more stakeholders and customers.
Get in contact
Please contact us if you have any questions or concerns, and we'll get back to you as soon as possible. Don't forget to sign up for our newsletter to get the latest news from Boxon.