Boxon
>
Blog
>
Company News
>
2,100 Cyclists in Eight Countries, 1,200-Kilometer Trip to Paris, for Children with Cancer
2020-03-30
2,100 Cyclists in Eight Countries, 1,200-Kilometer Trip to Paris, for Children with Cancer
Team Rynkeby – Good Morning, is part of a European charity project that raises money for children with cancer and their families. The participants are organized in different teams that jointly cycle down to Paris.
Team Rynkeby was founded in 2002, when 11 amateur cyclists associated with Rynkeby Foods A/S decided to cycle to Paris to see the final stage of the Tour de France. Rynkeby Foods was the main sponsor of their trip, which was also backed by other companies. In fact, the cyclists who joined the world's first Team Rynkeby team were so accomplished at finding sponsors that, when the team returned to Denmark just over a week later, the team had made € 5,100 profit. Team Rynkeby donated their profits to the children's cancer unit at Odense University Hospital.
A tradition was born! Now each year in July, Team Rynkeby – Good Morning participants, cycle to Paris to pay attention to the project.
2,100 CYCLISTS IN EIGHT COUNTRIES
Today, Team Rynkeby comprises 2,100 cyclists and 550 volunteers, divided into 57 local teams from Denmark, Sweden, Finland, Norway, the Faroe Islands, Germany and Switzerland. Team members are selected from thousands of applicants, who have completed the application form on the Team Rynkeby website.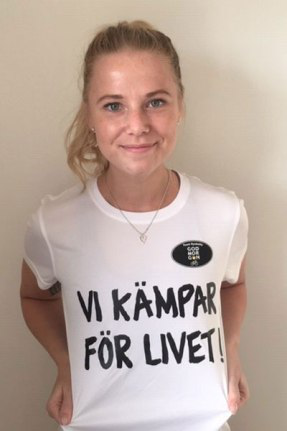 One of the members this year is Anna Hallström from Helsingborg Sweden. She is now preparing herself for the cycling in July. We asked her some questions:
How did you get in touch with Team Rynkeby?
I met Team Rynkeby when the project was very new in Sweden. Paul, who is Country Manager Sweden and was in the startup, also happened to be the parent of my football buddy. Therefore, I have seen the project grow and so has the interest in it.
What made you want to participate?
I want to participate to hopefully fight childhood cancer. All forms of cancer are terrible. My father has been ill for some time with cancer so unfortunately the disease has come up close. That someone's family and relatives should experience this, even worse if a small child gets sick, is terrible. Children and cancer do not belong together! Team Rynkeby has increased the chances with their work, now 85% survives. I want to contribute to this work.
What do you think will be the biggest challenge for you when you leave?
The biggest challenge will probably be to work with attitude and mental will. The cycling itself I can manage, partly because I am a marathon runner, but mainly thanks to strong teammates who support each other and fight so that everyone comes all the way. But it is only me that can influence the mental part and the team is depending on my effort.
The important thing is not to come first, but to do this as a whole team – together.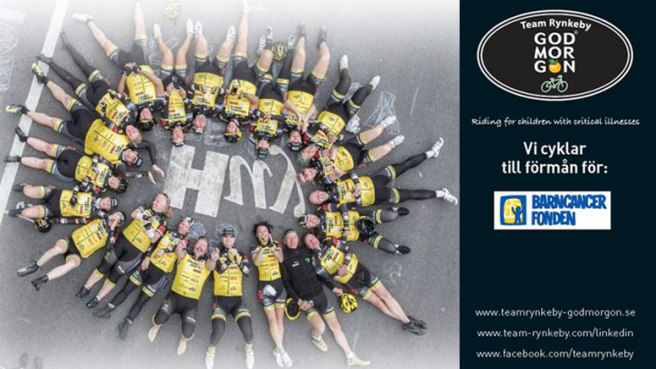 The Money Goes to Children With Critical Illnesses
Throughout most of the year, not only must members be prepared to cycle the 1,200-kilometer trip to Paris, they are also obliged to do what they can to raise money for children with critical illnesses. The money is raised from a variety of sources including sponsorships from generous businesses, who contribute with either cash or in-kind contributions to the project.
Team Rynkeby is a voluntary initiative, which means that we rely on sponsors to supply many of the things we need for our trip. This includes vehicles, fuel, food and beverages. Our participants pay their own way via the participation fee.
In 2019, Team Rynkeby donated 10,6 million EUR to organizations that help children with critical illnesses in Denmark, Sweden, Norway, Finland, the Faroe Islands and Iceland.
Boxon Sponsors Team Rynkeby
As a sponsor of Team Rynkeby – Good Morning, we not only donate money to charity. We also help put a healthy lifestyle and seriously ill children on the agenda throughout Europe.
Team Rynkeby – Good Morning is undoubtedly the exercise and charity project in Europe that receives the most exposure in the media, which every year contributes to inspiring thousands of people to do something good for themselves, while also doing something good for others.
Read more about Team Rynkeby:
Web: www.teamrynkeby.com
LinkedIn: www.team-rynnkeby.com/linkedin
Facebook: www.facebook.com/teamrynkeby