2020-02-25
Boxon Group Become A Participant of the United Nations Global Compact
We are glad to announce that Boxon Group is now an active member of the UN Global Compact! This is a big step in our work with global sustainability and more is coming!
As a participant of the United Nations Global Compact, we are committed to responsible corporate governance. We are proud to be part of this worldwide initiative of more than 10,000 companies and orient our entrepreneurial activities to the 10 principles of the Global Compact, which include the areas of human rights, labor standards, environment and anti-corruption. A responsible task that we are happy to take.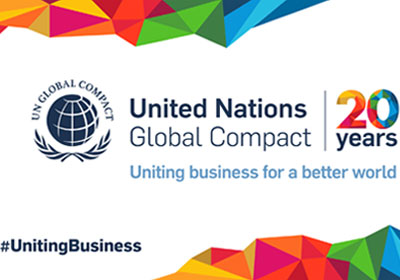 UN Global Compact: Uniting business for a better world
The voluntary initiative, in which companies have committed themselves since 1999 in a pact with the United Nations to promote social and environmental responsibility in the context of globalization, is present in over 170 countries and encourages companies to develop sustainable solutions in economic, social and environmental terms.
Since it was introduced to China in 2004, the UN Global Compact was strongly supported by the Chinese government and has become an important platform for the dialogue and cooperation between the United Nations system and the Chinese enterprises.
Boxon: Practice sustainable development long term
In 2018 Boxon became the first FIBC supplier in the world to offer its customers CO2-Neutral products to contribute to the environment. We have been supporting the climate protection project Solar Energy for Education & Jobs in Tanzania with the Carbon-offsetting funds. The project implements high-tech solar home systems including a GSM modem that deliver a clean, affordable alternative to fossil fuels for low-income households, schools and small enterprises in Africa.
Boxon also offers FSC certified options for some businesses with stronger environmental concerns in mind. FSC-certified cartons mean that you won't buy products from endangered species or illegal harvesting.