2016-01-25
Innovative packaging saves you time!
Postal packaging with smart constructions is increasingly being developed to make the packaging process, distribution and any returns as easy and smooth as possible. Today's demand for rapid delivery also requires manufactures to develop innovative solutions that simplify the entire flow.
An innovative solution recently introduced in the market is Paperpac, a cardboard box with integrated paper attached inside the box. The paper surrounds the product and keeps is safe and secure inside the box and prevents it from getting damaged during transport. So instead of choosing a flat, thick, wide or tall packaging and filling material to fill out the box with, Paperpac provide one single solution all in one. The format of the Paperpac can handle several different types of products.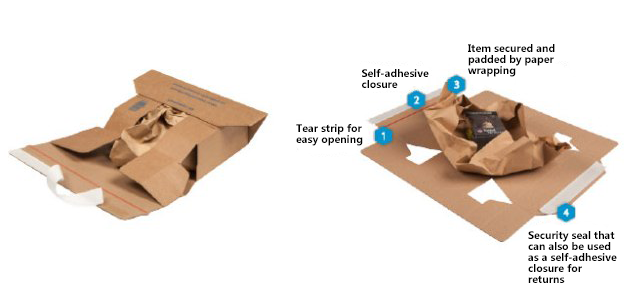 As many other smart packaging constructions, this solution also have adhesive construction so that no other sealing is necessary, two stripes so that returns can be done easily, and in addition the paper is 100% recycled. Natural things that today's packaging often has to be equipped with in order to compete among all innovative solutions.
Another important aspect of this is that with a complete solution you can replace several other packaging materials. For example you don't necessarily need filling material, you don't need to keep stock of several different box sizes and formats and you also save the extra tape. The benefits from this are a cost saving, an environmental friendly decision and more free space on you packing table.
Get in contact
Please contact us if you have any questions or concerns, and we'll get back to you as soon as possible. Don't forget to sign up for our newsletter to get the latest news from Boxon.