2019-06-25
Value Creating Packaging Solutions for Automotive Industry
Cars contain thousands of spare parts that need to be transported from suppliers across the country or even the world to assembly plants for fitting them into complete vehicles, engines or transmissions.
The optimal packaging solutions for the large amount of spare parts will be developed based on the transportation mode, vehicle loading rate, warehouse shelf specifications, operating environment, local laws and regulations, raw material costs and so on, thus effectively improving the safety of transportation, reducing cargo damage, increasing the loading rate, being suitable for operations, and effectively increasing production capacity.
Boxon has extensive project experience in the automotive industry. Our teams in Europe and Asia efficiently collaborate across borders and provide real-time communication and on-site packaging services to customers. Choosing Boxon as the total packaging supplier, you can escape the packaging headache that you may be facing through our professional packaging design and services.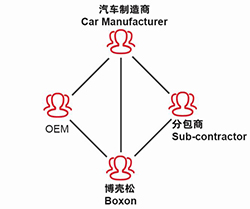 Save transportation costs
Boxon engineers standardize the packaging based on the size of containers and trucks, which increases the loading rate of containers and trucks, thus saving transportation costs.

Integrate multiple packaging materials
Boxon offers a wide range of packaging materials. We select the most suitable materials for you according to your product process, characteristics, transportation environment, production line operations and so on. As a result it is much easier for you to manage the only packaging supplier instead of multiple packaging material suppliers.

Improve the safety of product transportation
Boxon's professional packaging design and quality packaging materials can significantly reduce the packaging damage rate and let your products reach the destination safely even after long-distance transportation.
Reduce warehousing costs
Our professional packaging design can improve the space utilization of each pallet; the standardization of pallets can improve the utilization of your warehouse shelves; our warehousing service can improve your packaging stock turnover rate and thus reduce your warehousing costs.

Shorten the packaging development cycle
Boxon has its own flatbed cutter which accelerates sample making. Therefore the packaging development process is significantly shortened.

Efficient communication
Packaging suppliers only work with one party regularly in projects. Instead, Boxon keeps in touch with every party that involves in the packaging business. In this case we can make packaging solutions from an overall view and the communication between Boxon and each customer is much more efficient, which saves time and money in the end.

Environmentally friendly
Boxon cares about the environment and take many measures to protect it. For example, we choose environmentally friendly packaging materials as many as possible; we implement downgauging while ensuring the product safety; we offer CO2-neutral big bags, etc.

Brand image
Multiple packaging suppliers often mean multiple packaging solutions, which often results in inconsistent brand image communication. Boxon is able to communicate your brand consistently as the only packaging supplier regarding to the packaging appearance, color, logo and so on.
Adding value beyond the box
As the strategic partner, we not only provide the box to your product. Our professional technical team would analyze your products and logistics and make a complete packaging solution for you. You only need to focus on your core business. Boxon cares every details of packaging for you and support you to fulfill your long-term strategic target.