2021-01-29
General Introduction about Volvo Packaging Projects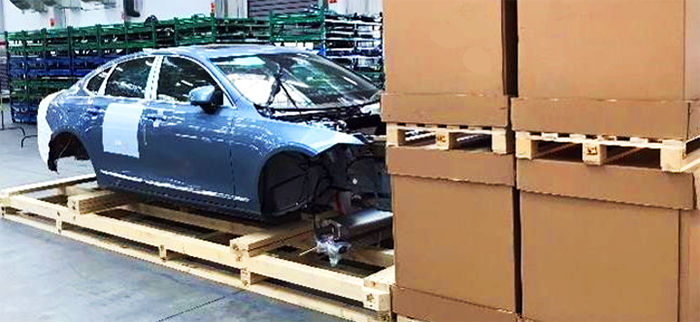 Volvo SKD is a car export project to India, Boxon made all packaging solution and provided packaging materials and services to Volvo Daqing, Chengdu, Luqiao and Gothenburg plants.
Volvo Semi-knocked-down  (SKD) India Project currently mainly involves models S90 (Daqing Plant), XC40 (Luqiao Plant), XC60 (Chengdu Plant) and XC90 (Gothenburg Plant). Each vehicle will be disassembled into 110 spare parts including the vehicle body, which will be transported to India through paper, plastic and wood packaging and containers.
Boxon has been providing Volvo with packaging design, testing and on-site services since Volvo's strategic requirements in 2018. The latest packing solution can save Volvo more than 30% of the supply chain costs, which is highly recognized by Volvo! Boxon provided all the packaging materials involved in the project including paper, wood, plastic bags/films, EPE, hoisting belts, packing belts, tapes, etc.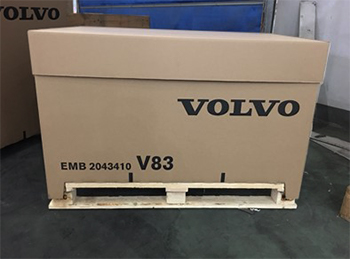 Volvo decided to unify export packaging quality standard for all spare parts from China to abroad and vice versa in 2017 and Boxon was the only one nominated global packaging supplier for this project.
Volvo One Way export packaging project was officially launched in October 2017. Prior to this, Boxon supported Volvo to formulate unified packaging standards in Europe, and set up an online packaging material procurement portal for this project to facilitate Volvo's suppliers to check packaging material information and release orders.
Boxon is also Volvo's only global packaging partner for the project. We have branches in Western Europe, Northern Europe and China to support Volvo's business. In China, we have warehouses in major related cities such as Shanghai, Suzhou, Ningbo, Chengdu, Chongqing, Shenyang, Changchun, Tianjin, Langfang, etc. to ensure timely delivery of packaging materials.
We have provided packaging and services to more than half of Volvo's component suppliers, including Volvo standard packaging, packaging design and on-site services. The business is still expanding.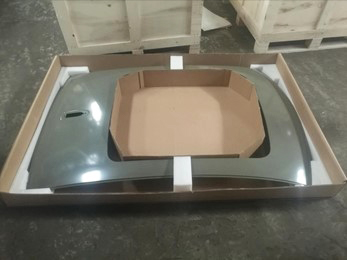 Boxon has also been involved deeply in Volvo after-sales market packaging project, Volvo started to localize their spare parts for after-sales market since 2015 and Boxon get started with Volvo together since the very beginning.
Up to now, Boxon and Volvo have cooperated in this project for more than 5 years!
Boxon not only provided Volvo with very satisfactory packaging solutions, but also made Volvo's internal KPI of packaging quality and delivery reached full marks for long time through the excellent supply chain management capabilities although there was limited and unstable packaging demand for after-sales parts. This ensured the normal delivery of Volvo after-sales parts!
At the beginning of 2020, Boxon started to provide labeling system for Volvo after-sales market project, which unified its global marking for delivery. The labeling system is working well and will expand to more business.